Immersed in the fairytale scenario of the Val di Sole and the Brenta Dolomites, the Folgarida-Marilleva district, connected on skis with the larger Campiglio-Dolomiti Ski Area, is one of the favorite destinations for winter sports lovers and others in Trentino-Alto Adige. About 70 km from Trento and about 200 km from Milan, these resorts are easily reached by car.
Whether you're a winter sports enthusiast or not, in Folgarida-Marilleva you're sure to find a wide range of activities that can be practiced both in winter and in summer! Let's see together what the best 10 things to do in Folgarida-Marilleva are!
Read also 10 things to do in Madonna di Campiglio!
[trx_sc_button type="modern" align="center" hide_on_desktop="" hide_on_notebook="" hide_on_tablet="" hide_on_mobile="" link= "https://snowitexperience.com/en/ski-resorts/folgarida-marilleva" title="Check-out all Snowit services in Folgarida-Marilleva"]
Discover 10 things to do in Folgarida-Marilleva:
SKIING IN THE CAMPIGLIO-DOLOMITI SKI AREA
The Folgarida-Marilleva district includes over 60km of slopes, equipped with modern and fast ski lifts and a wide range of services, making it an ideal location for family vacations. Together with Pinzolo and Madonna di Campiglio, the two resorts are part of the larger Campiglio-Dolomiti Ski Area, a true paradise for mountain and winter sports lovers. This extraordinary resort hosts thousands of tourists every year, attracted by the unmistakable charm of the 155km of slopes of the area, immersed in the splendid setting offered by the Brenta Dolomites, a UNESCO World Heritage Site. .
[trx_sc_button type="modern" align="center" hide_on_desktop="" hide_on_notebook="" hide_on_tablet="" hide_on_mobile="" link= "https://snowitexperience.com/en/ski-pass/folgarida-marilleva" title="Buy the Folgarida-Marilleva Skipass with Snowit"]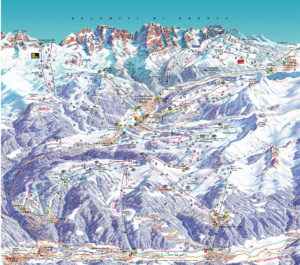 FAMILY PARK
As we mentioned a short while ago, Folgarida and Marilleva, and in general the entire area, are truly an unmissable destination for a perfect family vacation. The services dedicated to the care and enjoyment of the little ones are not lacking in these areas and we can't help but point out the magnificent Family Park of Folgarida: it is an entire area reserved for children, where they will have the opportunity to make their first descents on skis in total safety, thanks to the two ski lifts, two tapis-roulants, the Bamby chairlift and the Easy Line Snowpark. The playground is also equipped with a slope for snowtubing and several rides, ideal to familiarize your children with the snow, as well as a qualified and super engaging entertainment staff and a cute mascot named Snowy! In addition, there is another Family Park in Marilleva, smaller in size and less equipped, but which we are sure will not disappoint the expectations of your children!.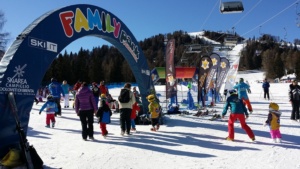 TRY THE LOCAL CUISINE
The cuisine of Val di Sole is based on the extraordinary agricultural and dairy products, simple but very nutritious, which owe their uniqueness to the unique combination of soil and climate that characterizes this land. Potatoes, polenta, cheeses, cured meats, including the famous Trentino speck, and apples are the basic ingredients of the culinary tradition of this territory, which is still respected and honored by its interpreters today.  The high quality of the gastronomy of this area is recognized worldwide, so we invite you to enjoy it as much as possible during your vacation in Val di Sole, either in one of the many refuges on the slopes or in one of the traditional restaurants/trattorie.
Read also: Dinners in Baita: which are the best ones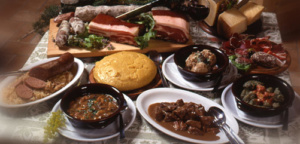 SNOWPARK
The entire Campiglio-Dolomiti area includes 4 snowparks, one of which is in Marilleva. The Marilleva-Val Panciana Snowpark is truly a paradise for freestylers and snowboarders of all levels and ages: an area of more than 14,000m², equipped with an artificial snow system and numerous natural and artificial structures for the enjoyment of those who love tricks and evolutions. The snowpark is immediately accessible by the four-seater chairlift Sghirlat.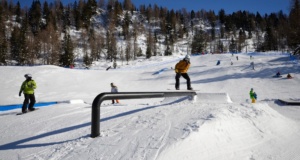 SKI MOUNTAINEERING
If you love the wildest side of the mountain, its most hidden and silent corners and the thrill of conquering the peak, then ski mountaineering in Val di Sole is definitely the activity for you! Here ski mountaineering is an ancient activity and practicing it along the many trails in the valley, surrounded by the peaks of Cevedale, Adamello and the Brenta Dolomites, is a real spectacle. Remember that ski mountaineering is a practice that requires physical effort, concentration, knowledge of the mountain and proper equipment that, in addition to skis with the right bindings and skins, also includes shovel, artva and probe. We suggest you to refer to the local alpine guides, in order to be able to practice this extraordinary activity in the best and safest way.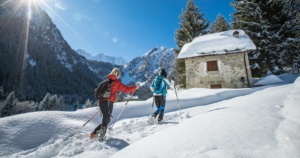 SNOWSHOEING
For those who are looking for a winter activity in contact with nature, which is an alternative to skiing/snowboarding, a great solution is a nice walk with snowshoes. In Val di Sole there are many paths dedicated to snowshoeing, from the easiest and accessible to anyone, to the most challenging, which require a certain physical fitness to be walked. Near Folgarida we recommend the path of the Emperor, so named because in the nineteenth century by the Hapsburg Emperor Franz Joseph who, with his wife Sissi, used to spend their vacations in these areas. The path is of medium difficulty, well beaten and marked. Along 12.6 km, which can be covered in about 5 hours, you will have the opportunity to admire extraordinary views on the Brenta group and Presanella.
Read also "Snowshoeing Trails: Which are the Best".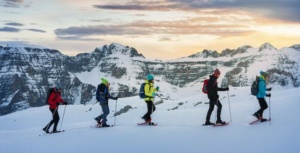 ICE CLIMBING
In winter, when temperatures drop below zero, the waterfalls of Val di Sole turn into a spectacular playground for lovers of Ice Climbing. Like ski mountaineering, ice climbing is an activity that requires a certain physical condition, excellent concentration skills and familiarity with the necessary equipment, such as technical ice axes and crampons. If you would like to learn more about this sport, the area around Folgarida and Marilleva offers an excellent opportunity to do so: we advise you, once again, to contact the local professionals to make sure you do this activity in the utmost security.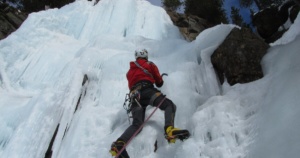 NIGHT SKIING
Skiing in this ski area is so much fun that we are sure you would love to ski not only during the day, but at night too! Fortunately, both in Folgarida and in Marilleva you will have the opportunity to experience the emotion of skiing surrounded by the charm and fascination of the night. At Folgarida every Tuesday, until 7:30 p.m., the Ottava chairlift opens, thanks to which you can ski on the final stretch of the "Nera Folgarida" slope; at Marilleva every Thursday, from 9:00 p.m. to 11:00 p.m., the Biancaneve ski lift opens, with which you can ski on the slope of the same name while enjoying excellent lighting.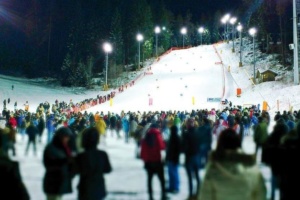 NORDIC SKI
It is well known that the Dolomites are a paradise for skiing, in all its forms! The Val di Sole, in addition to the possibility of practicing alpine skiing and ski mountaineering, of which we have already spoken, also offers a lot of fun for lovers of Nordic skiing. Fans of this discipline will find rings of varying length and difficulty, for a total of 45 km of tracks in Val di Sole: we recommend, near Marilleva, the Mezzana-Pellizzano ring. The trail is suitable for all types of skiers, from the most expert to beginners, and is 6 km long, running along the Noce River, to occasionally dive into the characteristic woods of the valley.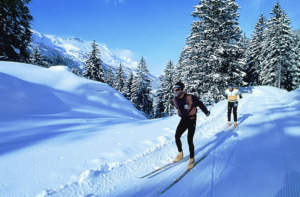 RELAXING AT THE WELLNESS CENTER
We conclude this list of the 10 activities not to be missed in Folgarida-Marilleva as, in our opinion, a good day of skiing on the slopes of this district should be concluded: with a little relaxation in one of the local wellness centers. Skiing is a very energy consuming activity so, before dinner, there is nothing better than relaxing body and mind with a good message or undergoing beauty treatments based on local products. If you have the possibility to move slightly away, we recommend you to go to the thermal centers of Peio or Rabbi.